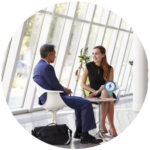 Convenient Power
in Any Space
Create better functional spaces with ChargeSpots. ChargeSpots turn any regular surface into an easy "touch down" spot for employees to power up.
Happy & Productive Employees
When phone batteries die, frustration sets in, and productivity drops. Keep employees happy and productive by offering them easy, accessible phone charging all day.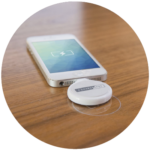 Simple Cable
Management
Say no to wire clutter! ChargeSpots install under the surface for a seamless look.
Spaces Indiana honoured local companies at the leading edge of design, at the inaugural Spaces Indiana Awards held on September 15th. About Spaces Indiana Matt Waggoner of JLL Introduces the Awards (Photographer: Kristin Hornberger) Spaces Indiana was founded ...

Deloitte's The Edge, Amsterdam pictured above (Photo: GRESB) Make any office better with these sustainability and wellness features: Low Carbon Transport Infrastructure Bike Part Manufacturer SRAM's office features tons of bike storage throughout the office (Photography: Michelle Litvin) ...

Cover Photo: Courtesy Massive Design In the Know Stegmeier Consulting Group Publishes the State of the Open Office Study. Stegmeier Consulting Group recently published the results of its State of the Open Office Research Study, What they found was that the ...
Unlocking Employee Productivity with Sensor Technology
Learn how facility managers can unlock employee satisfaction and productivity through sensor data.
The Beginner's Guide to Wireless Charging
Download now and dive into the world of wireless charging!
Loved by some of the world's largest companies