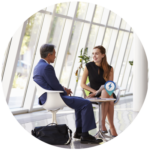 Convenient Power
in Any Space
Create better functional spaces with ChargeSpots. ChargeSpots turn any regular surface into an easy "touch down" spot for employees to power up.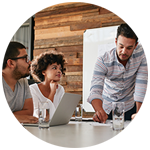 Happy & Productive Employees
When phone batteries die, frustration sets in, and productivity drops. Keep employees happy and productive by offering them easy, accessible phone charging all day.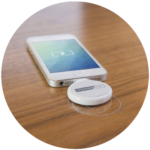 Simple Cable
Management
Say no to wire clutter! ChargeSpots install under the surface for a seamless look.
Pictured above: Pixar's Headquarters in Emeryville, California (Photographer: Jason Pratt) Function and aesthetics aren't the only measures of success for workplace design anymore. Companies are asking for spaces that represent their brands and instill core brand values in workplace culture. For ...

Pictured Above: BBC's custom helical office staircase at their worldwide headquarters in London (Photo: Glassdoor) With a push for active living, encouraging the use of an office staircase is gaining popularity. But the benefits of spaces that create more usable ...

Pictured above: Katerina Kamprani's "The Uncomfortable Project" With implications in the workplace that last at least 2-3 years, design errors are costly. Avoid making these 5 common design miscues to create better spaces that clients and their employees alike will love. ...
Unlocking Employee Productivity with Sensor Technology
Learn how facility managers can unlock employee satisfaction and productivity through sensor data.
The Beginner's Guide to Wireless Charging
Download now and dive into the world of wireless charging!
Loved by some of the world's largest companies